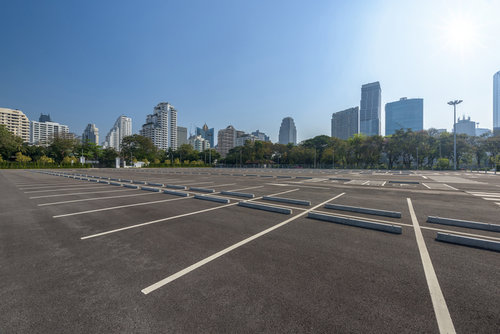 For commercial parking lots, roads and specialty paving projects, RoadBuilders is pleased to offer asphalt striping in Whitehouse, Nashville, and Sumner County, TN. After your surface is freshly paved and finished, we'll add the lines and markings it needs to be complete. From parking lot spaces, to pedestrian markings, to road striping and more, we handle the striping demands of your surface no matter what they may be.
ADA Compliant Striping
Striping for parking lots and other commercial surfaces requires a complete understanding of the guidelines outlined by the Americans with Disabilities Act (ADA). Our team is keenly familiar with these expectations and we undertake all striping projects with these guidelines in mind. We ensure parking spaces, loading/unloading zones and more are all striped to accommodate every individual, regardless of disability.
Welcoming all Nashville Asphalt Striping Projects
Surface striping projects are diverse. Whether you need a few parking spaces striped on a private lot or have a huge commercial parking lot that needs complete marking, we're up for the job. We can stripe parking spaces, pedestrian markings, traffic indicators, zones and more, in various colors.
ADA handicap
Blackouts
Bollard installation and covers
Crosswalks
Curb painting
Entry/exit
Handicap striping and other markings
Lane control
Object markers
Prohibitive and restrictive markings
Reflective coatings
Safety markings
Speed limits
Stencils and other markings
Warehouse floor striping
Warning markings
Wheel stops
Work zones
All pavement marking is done with precision and care, applied to uphold the high standards of excellence we're known for. We'll make sure your lot or road is clearly marked and easy to understand by anyone traveling on it.
Contact us for Nashville's Asphalt Striping
For crisp, clean asphalt striping that's easy to identify and perfectly aligned with official guidelines, choose RoadBuilders. We relish the opportunity to stripe your parking lot, road or other surface in whatever capacity you need it. Reach us today at 615-756-9559 to discuss the scope of your residential or commercial asphalt paving project.