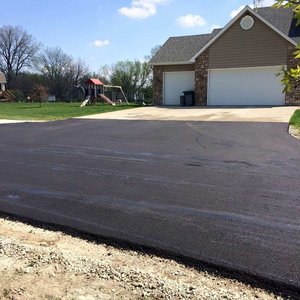 The key to quality asphalt is a well-engineered foundation. In constructing asphalt concrete base (ACB) surfaces, RoadBuilders takes a quality approach. From using quality aggregate, to ensuring proper grading, we pay critical attention to the complete construction of your asphalt base, to guarantee the finished product comes out optimally.
Engineering:

We're accomplished surface engineers who know how to assess the scope of your ACB project from the ground up. We'll make sure the site is properly prepped, the grading is accurate, the right aggregate and binder are chosen, and that everything is proportioned to-scale for your project.

Milling:

Using pavement millings in Nashville, TN, we're able to proportion the right mixture of aggregate and binder to create a surface that's strong, durable and resilient. Our work with asphalt millings extends to new paved surfaces, gravel surfaces and more. Let us introduce an eco-friendly solution into your paving project through millings.

Base coarse:

Our experience with ACB allows us to properly proportion layers required for this type of installation. From gravel borrow to finer substrates, we adhere to proper layering of base coarse, so your ACB surface comes out looking great. Before any paving is done, we verify the base coarse will bring total stability to the final surface installation.

Aggregate:

Choosing the proper aggregate is important for ACB surfaces. We'll ensure your project receives the right aggregate material and that it's spread accordingly, facilitating stability now and for the future. Before we pave the final ACB surface, we'll see that the aggregate base is properly proportioned for a reliable foothold.
Get in Touch
Not only does the RoadBuilders team provide you asphalt that looks exceptional, we guarantee the integrity of our surfaces right down to their foundation. For an asphalt base that's well-constructed and expertly formed, we're the clear choice. We've got the portfolio of projects to prove it! If you're in Whitehouse, Nashville, or Sumner County, TN, contact us today at 615-756-9559 to learn more. Ask us about our other services, which include tar and chip repair and striping.